City Utilities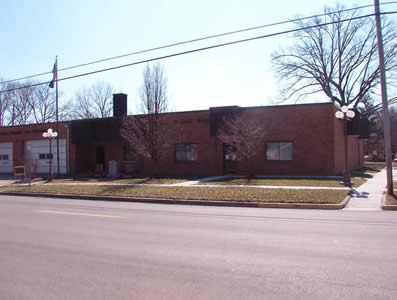 Utilities Clerk
Alesia Lipe
desotowd@neondsl.com
Phone: 618-867-2315
Fax: 618-867-2696
Supervisor to Water Department
Jana Fann
desot
Director of Public Works
David Griffin
City Workers
Danny Vancil
Mike Garrison
Meter Readers
Ron Bandy
Chris Ruph
Village Hall
Hours: 8:00 a.m. to 3:00 p.m. Monday through Friday
Water Rates Inside Village of DeSoto
First 2,000 gallons per month $13.10 minimum charge
Per thousand gallons after minimum $6.00 per 1,000 gallons

Water Rates Outside Village of DeSoto
First 2,000 gallons per month $16.60 minimum charge
Per thousand gallons after minimum $6.50 per 1,000 gallons
Water-New Rural Rate
First 2,000 gallons per month $26.60 minimum charge
Per thousand gallons after minimum $6.50 per 1,000 gallons

Bulk water sales (per 1,000 gallons)   $4.00
Sewer Rate
Base rate $12.00
Per 1,000 gallons or any part thereof $ 5.00 per 1,000 gallons
Water Deposit Fees
$100 renter This deposit will be refunded when the occupant moves away from the property.
$75 home owner This deposit will be refunded after two years if all charges, fees and penalties are paid on time.
Water Tap Fees
Water Tap Fees (In Town) ¾" line $650.00
1" line $850.00
Water Tap Fees (Out of Town) ¾" line $750.00
1" line $950.00

Sewer Tap Fee $200.00
*All water bills are due to 15th every month. Payment may be made at the First Mid-Illinois Bank night deposit box, postal mailing, or by Visa, Mastercard, and Discover at the Village Hall. After the 15th of the month all payments must be made at the water department located in the Village Hall. There is a 15% penalty after the 15th. Service disconnections are on the 24th of every month at 10:00 a.m. There is a $30 reconnect fee is services have been disconnected.
We Now Accept:



***********************************
INTERESTING FACTS
1.) One drip per second can waste more than 3,000 gallons of water a year.
2.) A leaky toliet can waste about 200 gallons of water a day.
3.) A full bath tub requires about 70 gallons of water, while taking a five minute shower uses
10 to 25 gallons a month.
4.) The average faucet flows at a rate of 2 gallons per minute. Turning off the tap while
brushing your teeth can save up to 8 gallons of water per day.