History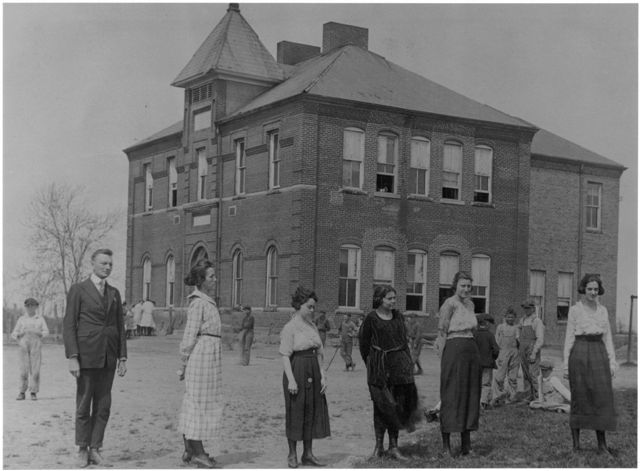 In 1787, the Congress of Confederation passed an ordinance which organized the territory of the United States northwest of the Ohio River.  Settlers began to come to the Southern Illinois region from the areas of Kentucky, Virginia, and Pennsylvania.  In 1818, Illinois became the 21st State in the Union. 
When the Illinois Central Railroad came through this part of the state, the Village of DeSoto came into existence.  The railroads considered the wood yard in DeSoto an important one before the trains began to burn coal.  In 1854, the town was surveyed by Claiborn Barrow, surveyor for the county.  The survey was requested by the owner of the land, David A. Neal of Salem, Massachusetts. The plat was certified to Mr. Barrow in November 1854 and recorded at the county seat in January 1855.  (The name ADeSoto@ was derived from that of the Spanish explorer, Hernando DeSoto)  S.S. Hall laid out the first addition to the Village. The post office was established in April of 1855, with Franklin Campbell as postmaster. By the 1880's, coal mining had become a profitable industry in the area. The town grew quickly over the years and has had many businesses; including a flour mill, sawmill, copper mill, newspaper, blacksmith shop, hotels, casket maker, saloons, gas stations, restaurants, and several drug and general merchandise stores. 
Through the years, the Village of DeSoto has experienced several disasters. Shortly after the Civil War, a large portion of the Northern section of the town burned.  In 1891, a fire did great damage to the southern portion of the town.  Perhaps the most devastating to the people of DeSoto was the Great Tri-State Tornado of 1925.  Much of the town was destroyed including the two story school building.  The casualties of the tornado were numerous, including many children who were attending school at the time.  Following each disaster, with a great sense of community, the people of DeSoto have bravely rebuilt their town. 
Currently, with a population of approximately 1,660, DeSoto has four churches. The Mt. Calvary Lutheran Church was established in 1855, the DeSoto Methodist Church formed in 1858, the First Baptist Church organized in 1905 and the most recent, the Jubilee Tabernacle, began in 1987. 
The organizations and clubs of DeSoto include the Volunteer Fire Department, Lions Club, Brownies, Girls Scouts, Parent Teacher Organization, Brian Johnson Memorial Organization, and the DeSoto Little League.  Each group strives, both collectively and through their organizations mission, to improve the quality of life for the people of DeSoto.
With the passing of time, DeSoto has largely become a bedroom community.  Many of the citizens spend part of their work day in other towns.  However, with each generation, the people of DeSoto have continued to expand and improve the Village . . . and to take great pride in the community in which they live.