Trash Service / Recycling
RECYCLE
*Recycled items are picked up every other Wednesday.  Please view your water bill for the current dates.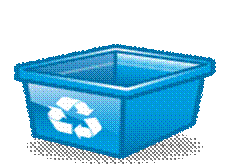 RESIDENTIAL SINGLE STREAM RECYCLING
Convenient and Easy! All Recycleables in One Cart!
Please call the DeSoto Village for recycle bins (618-867-2315)
Recycleable items: Cardboard, Newspapers, Magazines, Junk Mail, Phone Books, Office Paper, Folders, Tin, Steel, Aluminum Cans, Plastic Containers with recycling symbol #1, #2, #3, #4, #5, & #7, Aseptic Packing, Gable Top Containers
Not Recycleable: Bathroom Waste - Paper Towels, Tissue, Napkins, #6 Plastic - Polystyrene Foam (Styrofoam), Plastic Bags (return to store), Wet Waste - Liquids, Paint, Ceramics and Pyrex, Food Waste, Electronics, Kitty Litter, Glass Containers.